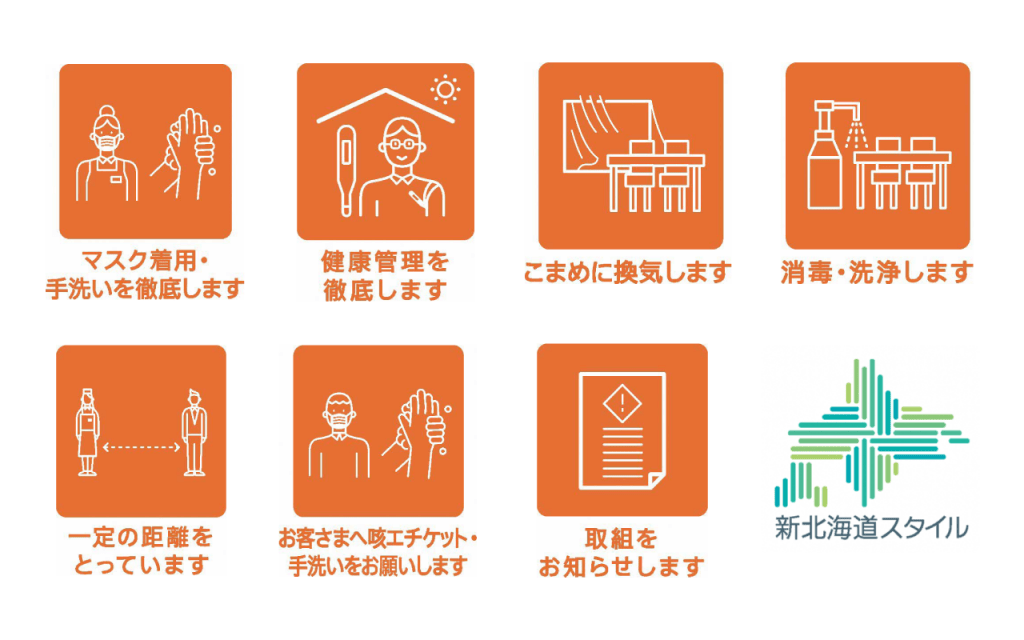 At San Lavia Ski Resort, we will respond as follows based on the "New Hokkaido Style".
■ Measures to prevent the spread of infection in all ski resorts
・A notice will be posted at the entrance of the center house, lodge, and rest building (hereinafter referred to as "center house, etc.") to the effect that if you have a fever, cough, or other abnormalities, you will not be allowed to use the facility. Disinfectants (such as alcohol for disinfection) are prepared at the entrance and the hand washing area, and signs are posted to ask you to disinfect your hands when using the Center House, etc.
・ In the center house, etc., we ask that you wear a mask except when eating.
・ Ventilation will be provided at any time in the center house, etc. as needed.
・ The center house, etc. will be disinfected on a regular basis.
・ Disinfectant is deployed in various places.
■ Staff health management
・ Staff will measure body temperature before going to work and thoroughly manage their health.
・ The staff will properly wear masks and face guards and thoroughly wash their hands frequently and appropriately.
■ Social distanceing measures
・An acrylic plate is installed on the restaurant table to prevent splashes. Seats will be spaced apart. Usage may be restricted depending on congestion.
・When waiting in line at ticket counters, rental counters, shop counters, etc., we try to keep a minimum distance of 1m or more.
In the future, we may change without notice depending on the situation.