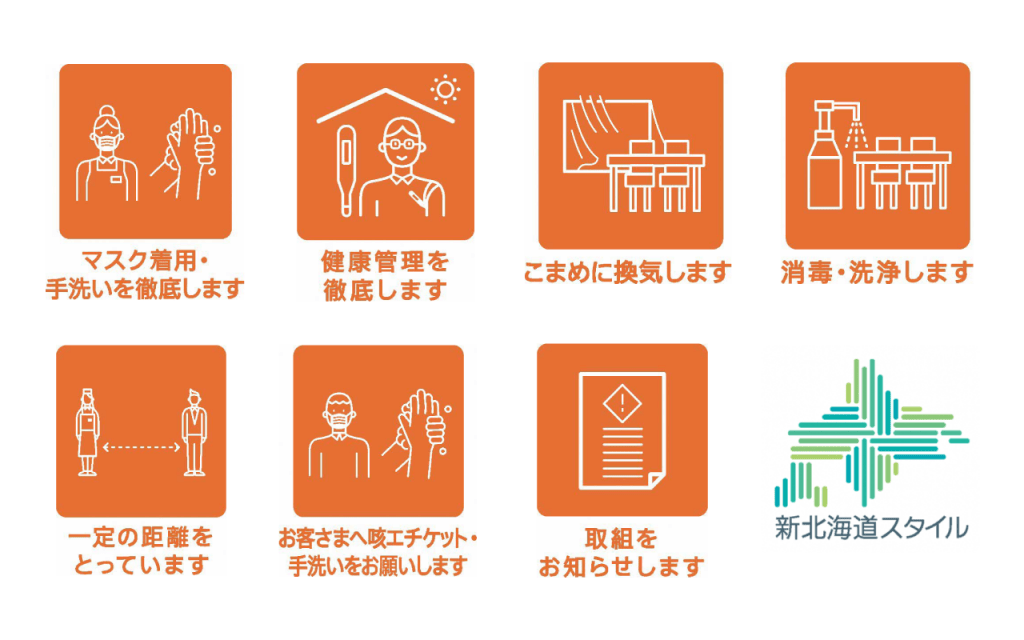 At San Lavia Ski Resort, we will respond as follows based on the "New Hokkaido Style".
■ Measures to prevent the spread of infection in all ski resorts
・センターハウス、ロッヂ、休憩棟(以下、「センターハウス等」という。)の入口には発熱や咳など異常が認められる場合は施設の利用をお断りさせていただく旨を掲示する。入口や手洗い場には、消毒液(消毒用アルコール等)を用意し、センターハウス等を利用する場合には、手指の消毒を行っていただく旨を掲示しています。
・ In the center house, etc., we ask that you wear a mask except when eating.
・ Ventilation will be provided at any time in the center house, etc. as needed.
・ The center house, etc. will be disinfected on a regular basis.
・ Disinfectant is deployed in various places.
■ Staff health management
・ Staff will measure body temperature before going to work and thoroughly manage their health.
・ The staff will properly wear masks and face guards and thoroughly wash their hands frequently and appropriately.
■ Social distanceing measures
・レストランのテーブルには、飛沫防止用のアクリル板を設置しています。座席は、間隔を開けて使用いたします。混雑の状況により利用を制限する場合もあります。
・チケットカウンター、レンタルカウンター、売店カウンター等で、順番待ちをする場合は、最低1m以上の間隔を空けるようにしています。
今後、状況により予告なく変更させていただく場合がございます。